Or
Submit Quote
This image is only a preview. Colors and text may appear slightly different on the actual product.
Cut/Fold
Straight Cut - No Fold
Note: This product may take 8-10 days for design, printing and process.
---
---
---
Click here for guide & tips
Upload your logo:
Drag and Drop Images Here
Please mail us the logo in proper file format to [email protected]
Supported file formats are: .jpg, .jpeg, .png, .tiff, .pdf, .ai, .psd, .cdr
Note
■ Allowed file format: .jpg, .jpeg, png, pdf. Please mail us for other types. (Use high resolution image)
■ For pdf maximum upload size is 2 MB.
Our expert will review your image to ensure it will turn out to be a great label. Revisions to the image (if required) are free of charge. Let us know if you have any questions on design, we are pleased to support you. A variety of file formats are allowed, including JPG, JPEG, PNG, GIF and PDF. If you have another file format, or if you have any questions, just call us, or shoot us an e-mail!
Select logo colors:
Black
White
Blue
Light Blue
Turquoise
Brown
Light brown
Dark pink
Pink
Dark purple
Purple
Green
Apple green
Off White
Orange
Red
Rubyred
Silvergrey
Yellow
Sparkling gold
Sparkling red
Sparkling silver
Sparkling blue
Metallic Silver
Sparkling blue
Select woven label type:
This option weaves an additional layer of white thread into your label to vibrantly brighten the background color, and prevent shine-through. Choose this option if your label pairs a white or a light background with a dark or bright text, symbol or logo. Adding a second layer of white yarn will prevent the logo from bleeding, or shining through, into the background.
Which side do you want to print?
One Sided
Both Sided
Upload image for the back side:
Drag and Drop Images Here
Iron or heat seal?
Not Available with select label type.
Clear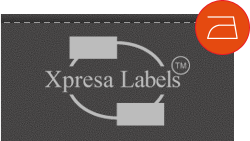 Iron On
(Not suitable for items that are washed)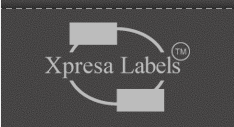 Adhesive
(Not suitable for clothing or items that are washed)
Note: for iron-on labels a layer of adhesive is added to the back of the labels such that it can be attached to fabric using a regular iron (no steam). For more information about applying iron on labels, please read our FAQ.
How many labels do you want?
| | | |
| --- | --- | --- |
| | Quantity | Per Unit Price |
| | 100 | $75 |
| | 100 | $75 |
| | 200 | $90 |
Any comment?
Instructions that help our designers with their review are welcome and will ensure a smooth order process.
When you create another label, the current design will be added to your shopping cart